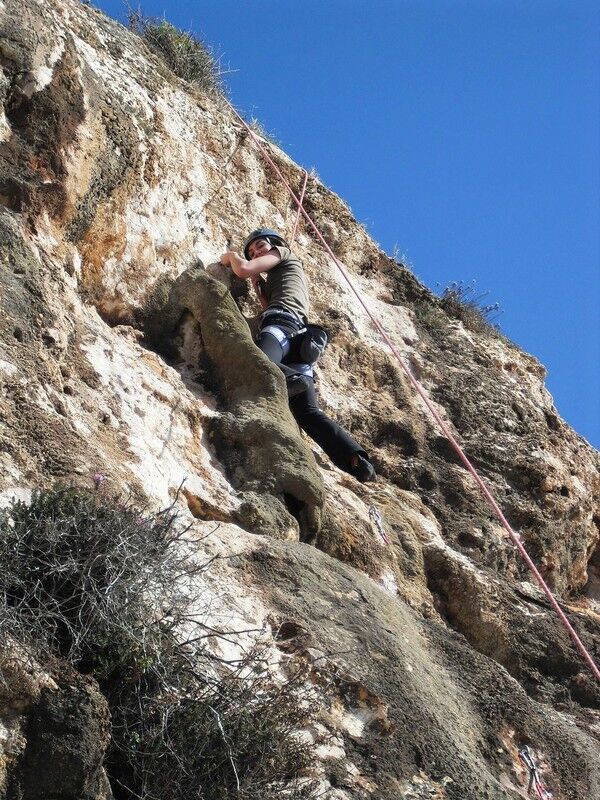 Yesterday 23rd January saw a great deal of activity at Terry's Cave in Ghar Lapsi.
The first route of the day to be led and followed by many was "Terry's Cave Direct" VS 4c by Andy Hooper. While up top, Andy set up a top-rope on the column to the left, recently led trad by Andrew Warrington and named "Le Droga, Le Haxixa" E2 5c. Meanwhile Andrew led his new route "Bonny Prince Albert" 5+ which had many followers on top-rope of all abilities, including both experienced climbers and the relative newcomers such as Miriam Gauci and Marina Sciberras.
Roland Sultana and Andrew both led "1500 Metres" 7a, to be followed by Kurt Caligari and a flying attempt (near morning's end!) by Caroline Zammit who displayed her aeriel acrobatic grace in a mighty, flying leap of faith. Hidden around the corner Edward Sciberras belayed Andy on a trad-lead which may be a variation of Annavic, adding an interesting run-out with thin placements. The route starts at the base on a boulder with a belay thread on the right side. Directly up the sloping slab and over the slight rough bulge passing the yellow holed patch to the left and continuing direct.
Terry's Cave is a great venue with routes from HS 4b all the way up to 7b in a cave no more than 40m wide. The gang of climbers yesterday varied from 7 year old newcomers to crusty old fogies, yet everyone found something to challenge their skills. The warm sun streaming into the cave kept the winter blues away. A great morning's climbing for all.