Rope, harness, shoes, quickdraws, helmet…everything you need for sport climbing in Malta!
Equipment for hire
Why carry your heavy kit to Malta when you can hire all that you need from our partner?! Beat the overweight nightmare, whichever airline you travel with. We have complete sets of gear to rent including ropes, harnesses, helmets, carabiners, belay devices, quickdraws and even boulder crash-pads all ready and waiting.
Visit our partner to rent your sports climbing gear or give Andrew a call on 00356 99470377.
We'll make light work of your trip to Malta…
Guiding for climbers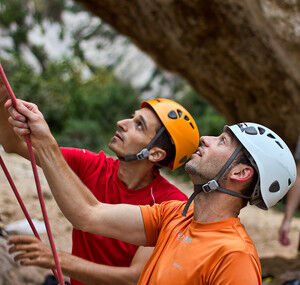 Guiding is a great way of getting to the very best crags and climbs without wasting time on a hit and miss search. Our experienced guides will take you straight to the best lines within your grade range and lead you along the quickest access routes in and out of the more remote crags.
Whether you wish to sport climb, trad climb or DWS, we can arrange it all for you. We can handle individuals or groups, whether experienced climbers or just trying it out for the first time.
For more information just contact our partner website for commercial rock climbing guiding and instruction.