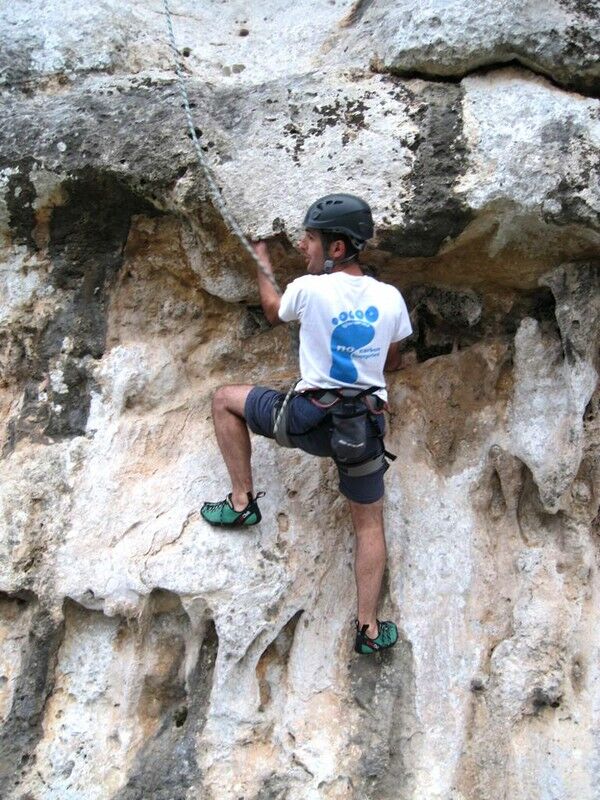 Victoria Lines was the venue on Sunday afternoon for the up and coming climbers and a change of scenery and rock type and drizzle didn't overcast their spirits.
Crazy Horse Cave area provided the change of venue with a number of the usual group engaged with other duties with Miriam Gauci, Marina Sciberras, Edward Sciberrras and newcomer Ben Gundry following in the path of Andy Hooper from easy to tricky routes.
An easy Shirini MVS 4a Trad-led by Andy Hooper and set up a top-rope for the followers to follow easily. Face-off HVS 5a was meanwhile set up with a top-rope and they tried their hardest and showed extraordinary eagerness to get to the top of this new challenge. Longstick Goes Boom E1 5b and Manic Maltese E2 6a on the one top-rope proved to be the real challenge with Miriam, Marina and Edward positively battling the tricky moves to end in a little swing and pumped arms.
When darkness came it didn't stop the enthusiasm of Edward and Miriam from trying one last time in the near-dark. However a borrowed head lamp from Edward provided enough light in front of Andy's eyes to top-rope the route again and strip the gear before heading to Café Jubilee for a well earned cup of tea with a visit from Terezia between her exam studies.
Well done to group and thank you for getting me off the boat for the afternoon.