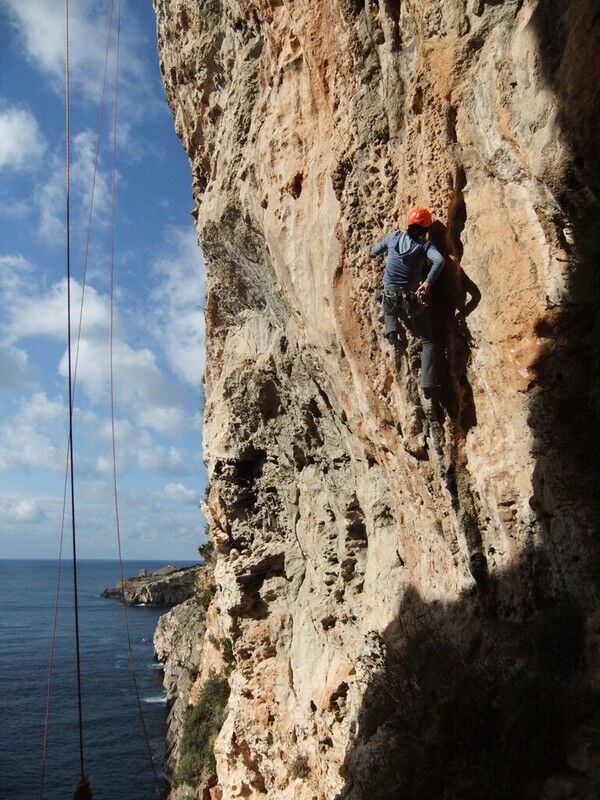 Sunday saw the MRCC's 2012 program of activities begin with a Flash and a Bang, resulting in two new sports lines being led in the Thaiwand Walls area. Roland Sultana led his new line and called it Flash Matt in honour of his son Matthias, and the fact that he flashed the 6b route. Andrew Warrington led his new route, which as revealed during the MRCC's End of Year Party is now called Revolver (bang!). This line is a comfortable 6a. Both routes are proper sports climbs including bolts and a screwgate lower-off at the top.
The rest of the gang did really well too. Miriam has finally made it to the top of Lord of the Thais E4 5c. Andrew also led Flash Matt 6b, Snatch 6b+ and Circus Oz 6c+, all four leads being done clean. Kurt led Revolver and Flash Matt (with some difficulty) and made a clean top rope of LOTT. Roland top roped Circus Oz clean.
The cave now has four sport and two trad lines. Andrew has also identified two new lines that he will be tackling left of Snatch and a possible line in between LOTT and CO. With these new developments, Thaiwand is becoming ever more attractive to visit, summer and winter. As Miriam so aptly put it towards the end of the morning: "This is now one of the my favourite places to climb on the island!".