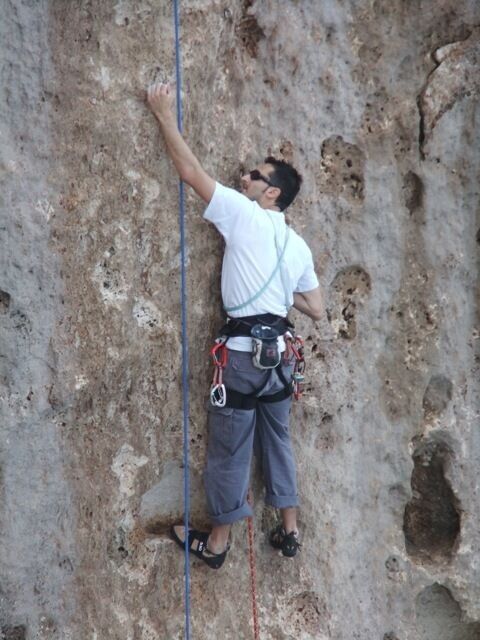 Except for the occasional solitary fisherman, few people venture out onto the edge of the cliffs at Fomm ir-Rih, which overlook the open sea and the island of Gozo to the right. Last Sunday, a few MRCC members picked this place for their weekly climbing fix. They headed to Ras ir-Raheb, starting on Spezz Wall, right on the end of the headland. There is no comfortable platform to abseil onto at this cliff – beginner and experienced climbers alike had to abseil onto sea-battered narrow ledges and start climbing a few meters above the deep water. This is intimidating if you are not used to it. The lack of a belayer beside you as you start to climb makes for a much keener sense of isolation and adventure when climbing this way.
Andrew Warrington and Roland Sultana set up the ropes to lower down the less experienced on three of the routes here and also on Rasta S 4b on Glass Wall. While Roland led Step in the Void HVS 5b, which Miriam Gauci top-roped after him, Mariella and Andrew Sammut, Tomas Mrozek, James Herrera and Robin Stoudeman tried another challenging route to the right. This is a new route which was identified and top-roped by Andrew some years ago but had not yet seen a first ascent. Andrew Warrington led the route for the first time later in the afternoon on trad, starting at the sea with Miriam seconding. It is a pleasant 45m line and is graded about E1 5a, now called A Tale of Two Turtles. There is a 2-bolt stance at the top, a bolted stance midway up the climb and one bolt just after the midway stance to protect a sketchy part of the route.
The day's tally was good, despite the muggy heat and hazy weather. Tomas and Robin top-roped Rasta and the top 2/3 of the new line. Mariella and Andrew top-roped the top part of the new line. Roland, after his lead of SITV top-roped Spezz Corner E2 5b and Spiritual Flight E2 5c. Miriam top-roped SF, SITV and seconded the new line. James top-roped SF, SITV and the new line. Andrew top-roped SITV and led A Tale of Two Turtles.
The highlight of the day was when a turtle waddled casually by below us heading for Fomm ir-Rih bay…long may she explore our seas in safety!