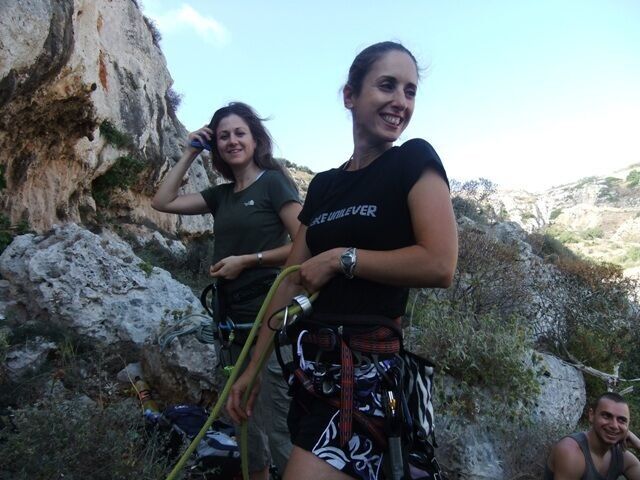 The MRCC once again returned to Mosta Valley last weekend, to hide from the sun's increasing intensity at Honey Buttress. Quite a number of climbers turned up for this week's event and led most of the routes on the crag. Andrew Warrington started off on Fly With Me VS 4c, then Marlon, Caroline, Cheryl and visiting Australian climber Leah all red-pointed this route. On the opposite end of the crag, Edward joined the Rat Race which while also only VS 4c, has a first move that is gutsy and committing at 5b! Kurt, Cheryl and Marlon also top roped this route while Miriam and Leah both red-pointed it. Andrew also led his new route Qaghaq tal-Ghasel E1 5b, a pleasant line going up between Honey Bee and The Bee's Knees ending at a newly placed LO.
Roland got serious with his lead of Honey and Cream, at E2 5c a very hard test-piece and worthy challenge. Andrew red-pointed it too while a handful of others attempted it top rope – Kurt was the only successful one of these. The route may warrant an upgrade to E3 because of the bestial starting moves and exposure higher up…
The party was joined by Tomas Mrozek, Matthew Manderson and his family in the afternoon, who all attempted Fly With Me and Qaghaq tal-Ghasel. Their presence resulted in quite a bit of chatter and some excellent pictures being taken of the day's climbing.
Everyone who attended yesterday's session enjoyed the great company and variety of climbs on this crag, and most are eager to return in order to challenge themselves on the harder routes!