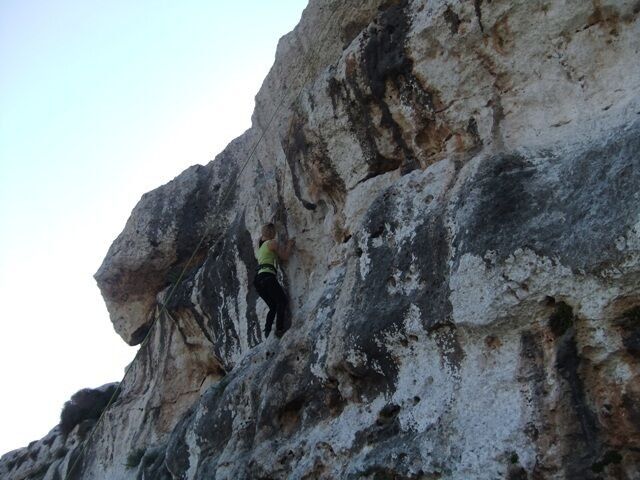 The MRCC opted for an early start last Sunday, to make the most of the morning before the sun arrived. There is a great selection of routes of varying difficulty at Crazy Horse Area on the Victoria lines. Because the routes in this area are only 10 – 15m high, a lot can be achieved in just a few hours.
Two foreign climbers joined the group this week; Slovak climber Marek Zatko and Kristiina Unkuri, a Finnish girl who is still a beginner. The group started on the easier Shirini MVS 4c and Face-off HVS 5a, both led by Andrew Warrington, who then moved on to the more challenging Whammer Jammer E1 5c. In Crazy Horse cave, Edward Sciberras led Sitting Bull VS 4c, which was then top roped by Miriam Gauci and later also led by Marina Sciberras.
The more experienced Kurt Caligari top-roped Crazy Horse E2 6a, making the impressive start as on the original ascent, beginning well inside the cave and squirming up the central pillar, then emerging to the crux moves on the face. He later also made it up the thin and pumpy Jaguar Smile E3 6a. Roland Sultana and Andrew Warrington both followed suit, on both routes. The less experienced but determined climbers also had a go on the exhausting Whammer Jammer E1 5c, and Keith and Miriam finally made it up the overhanging block on this route and on to the top!