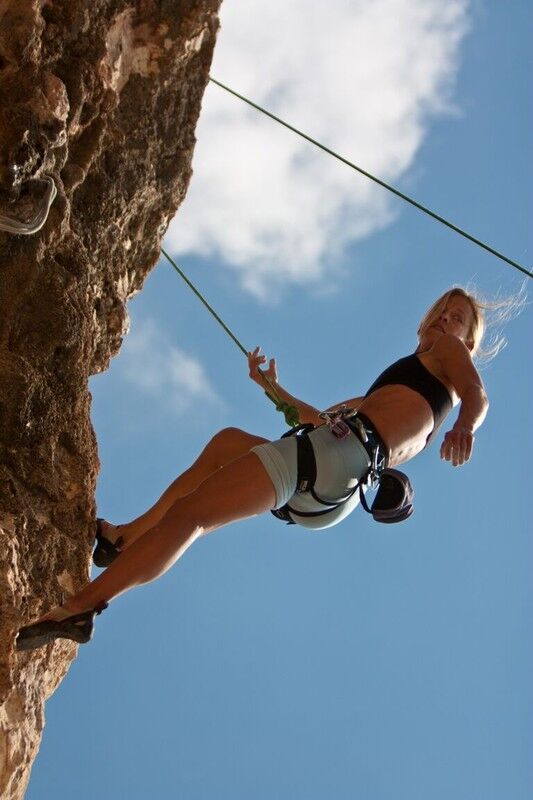 For the third time in several weeks the MRCC returned to Għar Lapsi, this time to the Twin Caves area. After the steep uphill walk into the cave, Andrew lost no time, racked up and led Chicanery HVS 5a, A Scoopy-Do HVS 5a, Rat Race E1 5a and Snowman VS 4c in quick succession.
Whilst Anna, Christina, Marina, and Marlon set about top-roping these, Andrew and Roland tackled the fearsome Kerbside Warrior E3/4 6a, a pumpy line up the right hand side of the larger cave that would be even higher in grade if it weren't for the mid-height rest in a minute cave. With this out of the way Roland nipped over to Terry's cave with Duncan and Marina to cruise up Just Like Nothing on Earth 7b. They got back just in time to see Claudine Gatt cruise Kerbside Warrior on top-rope. James Herrera had his first go on the route. After a little difficulty at the crux, our Jimmy made it to the top.
After lunch, two of the four remaining climbers picked up bolting equipment and headed back up the slope once again. While Christina and Pierre took another swing at Rat Race, Andrew and Duncan got down to some bolting work. Andrew installed a lower-off at the top of Snowman, and, having top-roped a new line earlier, began the process of putting up this line to the left of Rat Race, whilst Duncan screwed the rotten bolts out of Scoop & Arete. These had seriously corroded and urgently needed replacement – the 21 year old bolts were an accident waiting to happen. Neither bolt extended more than 5mm into the plug (see photo). Both routes will be finished during the next visit.