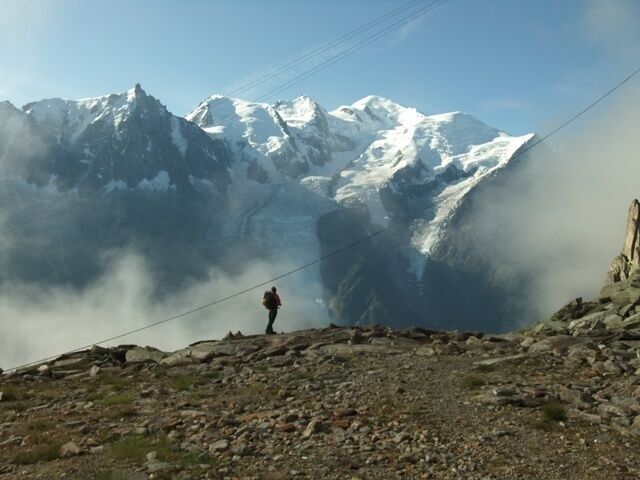 Videos
The MRCC opted for a radical change of scene this summer and headed to the European climbing capital of Chamonix for an active week of adventure amid stunning surroundings. With its snowy peaks and mountains on all sides, this small town provided plenty of opportunities not only for multi-pitch climbs at a high altitude, but also for other activities such as canyoning, rafting, trekking, paragliding and a spectacular via ferrata.
During the first weekend, the group organized a canyoning excursion along a freezing river, as well as a trek on the mountains to the well known Mer de Glace glacier. During the week, serious climbing was on the agenda, and Andrew Warrington, Roland Sultana, James Herrera and Miriam Gauci headed up to climb on Le Brevent, at an altitude of 2500 m. This classic multi-pitch rock climb consisted of 6 pitches up to a grade of 6a, with steep slabs and an awkward yet amazing corner climb to a wide ledge. After a traverse, the final pitch was a pleasant, airy open corner finishing almost at the cable car station at the top! Later in the week, Kurt Caligari, Roland Sultana, Cheryl Aquilina and Caroline Zammit completed another multi-pitch climb on Le Gliere, close to the Index cable-car station, and were lucky enough to have the climb all to themselves. Plenty of climbing practice was also to be enjoyed at Les Gaillands in Chamonix, less than 5 minutes away from the chalet that the group stayed in, with climbs ranging from very easy 2 – 3s right up to 7a +.
Some members of the group also completed an exhausting yet worthwhile trek up the Bosson glacier with over 900m of height gain, as well as a walk and small ice-climb on the Mer de Glace. Paragliding was also on the agenda for Pat Marshall, Andrew and Mariella Sammut, who with the help of their pilots, took off from the glacier on the Grand Montets for a spectacular flight down almost to the centre of town. Others decided to try out the fairly easy but exposed via ferrata in Passy, a route of about 200 m height gain, equipped with ladders, planks, and unsteady bridges. This offered a taster to climbing and traversing for those who had never climbed before, as well as exceptional views of the villages below and ice-capped mountains in the distance.
The variety of diverse activities to choose from in Chamonix is amazing. Despite the group being of different levels of skill in a number of disciplines, from mountain biking to trekking to rock climbing to flying, the variety of adventure sports that Chamonix offers ensured that everyone had a 'bomba' time of it. We all left with vivid memories of the spectacular landscapes, physical challenges and great company which made this trip a truly once-in-a-lifetime experience…until our next adventure, that is! Congratulations to Kurt Caligari (now better known as 'Mr Caligari Tours') and Mark Zammit for organising everything from Malta.