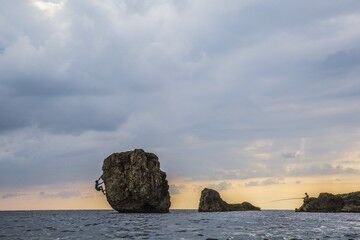 Matt Segal and Kinlock Mason Earle, two top U.S. climbers, visited Malta and Gozo together with leading photographer Andrew Burr. They made a great team of three, Matt and Mason doing all the hard climbing while Andrew negotiated himself into the most incredible vantage points to be able to get that perfect perspective on what the climbers were doing. The resulting pictures are a priceless record of the possibilities that adventurers can find on the Maltese Islands!
During their time on Malta, the boys lived at Basecamp and went out on their explorations from there. Using car, boat and rope to reach their sweet-spots, just take a look at what they got up to…
The trip was part sponsored by the MTA while Basecamp provided the accommodation…and we got to climb with some truly talented, world class climbers and all round great guys.