For the third year running the BOV Social Club has asked the MRCC to organise a session on the rocks.
The 35 spaces available were filled within hours of the event having been announced on BOV's internal communications net.
Word about the success of the preceding events had spread and everyone wanted a piece of the action. Just as in previous years, the activity brought together a mixed bag of aspiring climbers.
There were the newbies who have only joined the bank recently, there were the seasoned hands who know the bank's social club events well and make make sure they are included in the guest list, the sports freaks, the have-a-goers and the ones who had done this before and wanted to try a slightly harder challenge than last year's. None were disappointed.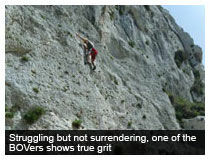 The pictures speak for themselves. A great bunch of people gathered to hear the impeccable introduction to the sport given by our Kurt Caligari. Mark Zammit and Cheryl Aquilina as always were stalwarts at belaying, tieing in one climber after another and never deserting their posts, even when the afternoon wore on. Caroline Zammit used her experience on the catwalk to make sure the cameraman always got in her good side. Claudine Gatt and Andrew Warrington buzzed around the crowd, encouraging the reluctant and those hanging on for dear life, checking harnesses and hard-hats, making sure everyone was safe.
There will no doubt be another event to follow on from this one next year. In the meantime the BOVers seem to be catching the adventure bug from us. They have since been on a couple of long treks, one in Malta and one in Gozo as well as a kayak run, all organised by the intrepid Caroline, Mark, Kurt and Cheryl.