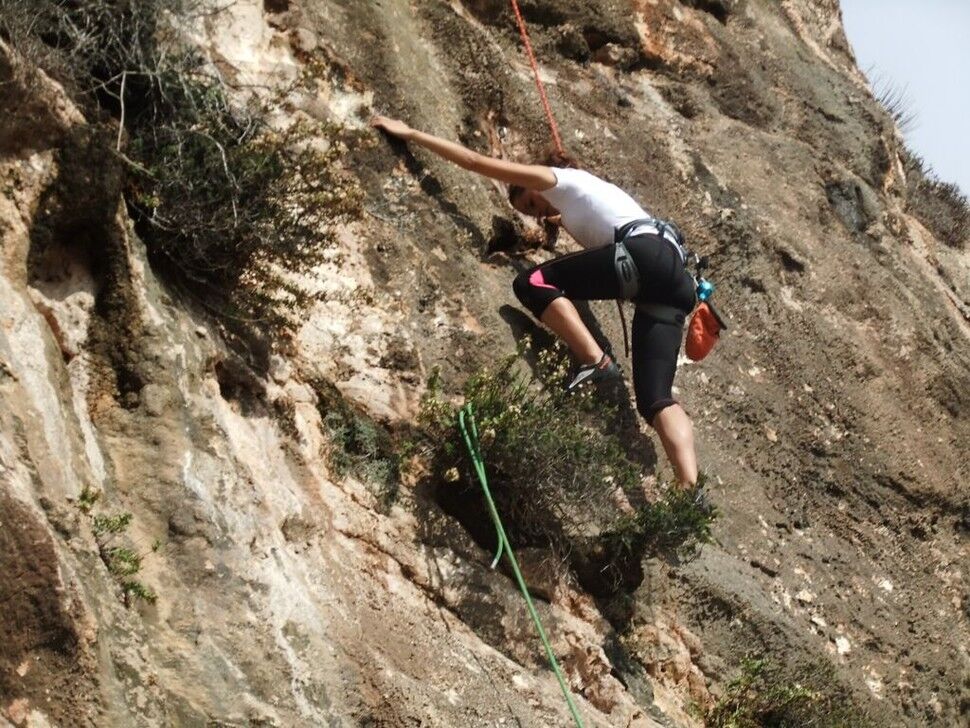 The MRCC headed to Terry's Cave at Għar Lapsi and presented videographer Bryan Azzopardy with excellent models and material for the MTA video he is making with the MRCC and the best of Malta's climbers.
For the second time the MRCC headed out to the cliffs to help Bryan Azzopardy with the project of compiling video clips to help the MTA promote Malta as a rock climbing destination. This video was originally Mike Caffrey's idea. He presented it to the MTA who immediately called in the MRCC because of our long standing relationship to develop Malta as a rock climbing destination. This was the second time that the MRCC went out to the cliffs to assist Bryan in this project. Bryan darted back and forth, sweeping the rocks with his cameras as the rest of us did out bit by doing what we do best!
This week the usual gang were joined by British climber Jenny, a friend of Duncan's, and German Christina who is here working at hospital for a while. We also had Joan, a fellow islander but from Mallorca not Malta. These visitors were glad to be able to climb in our blazing November sun.
Andrew Warrington first led Bonny Prince Albert 5c+, which was top roped by Christina, Joan and Marlon. Andrew then led Terry's Cave Direct VS 4c and set up a top rope on Just like Nothing on Earth 7b, a vertical wall with a few essential holds on which Duncan Steel succeeded after several attempts. Miriam Gauci also top roped Le Droga Le Haxixa E2 5c, while beginner climber Hannah had her first go on a 5c+ sport route, struggling up Bonny Prince Albert. Veteran Richie Abela joined us and spent a pleasant, sunny morning patiently belaying all comers, before having a go at the Prince himself.
After spending their fair share of time pointing Go-Pro cameras at the gorgeous Christina, Miriam and Jenny in the interests of the MTA, Roland and Andrew got serious with a fast lead of 1500 Metres 7a, the quintessential Gary Gibson line up bulging, overhanging rock to a steep, tendon-stretching finish! The rat that sauntered out of the final hold didn't seem too impressed with Andrew's grunting and casually walked up the bulging headwall as if taking a stroll along the seafront…
While the gang was engaged in their Hollywood climbing session, the sweep of rock around the Għar Lapsi cove by the sea shed a massive portion of its face onto the rocks below. Had this happened in summer, it could have been a very serious rock fall – this is where everyone suns themselves after a refreshing swim in the sea! Thank god it happened now when the area was deserted. Amazing that we heard nothing from the cave because we were no more than 500m away!