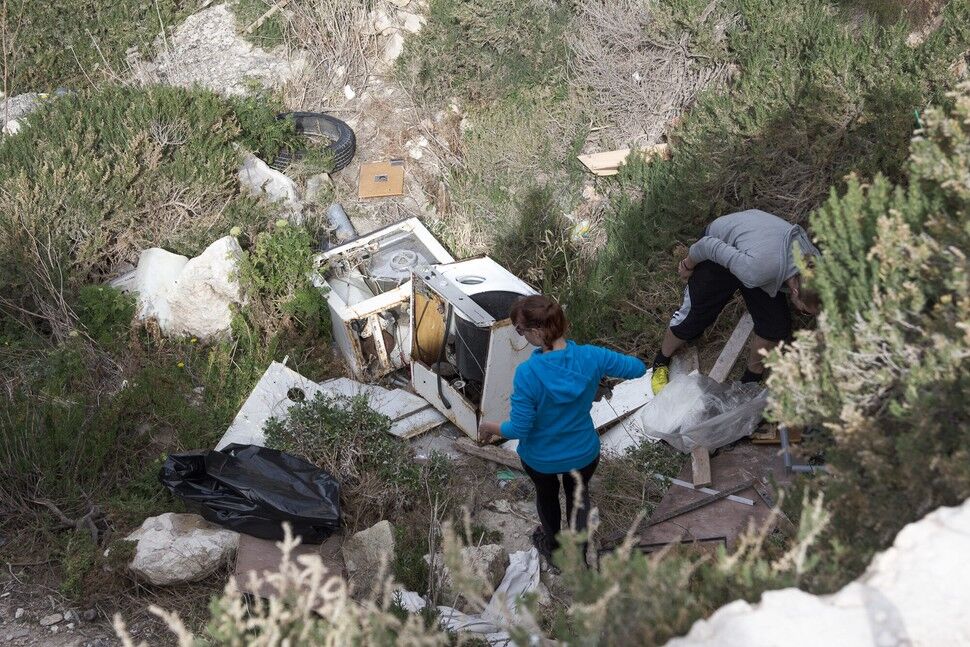 The MRCC just held its second Club Climbing Session in March, this time combining it with a much needed cleanup of Xaqqa Valley. More than 20 club members helped with the cleanup making it a pretty international affair with over 10 different nationalities represented, spanning the globe from Columbia to Pakistan!
As many of you know, Xaqqa Valley is a mecca for slab climbers and abseilers. However it is also a target for another popular local sport – dumping unwanted white goods and household waste in the countryside!
The day's event started with the cleanup. Green Skip Services Ltd. kindly sponsored a large skip which was quickly filled up with all manner of discarded waste, including two 'men-at-work' signs which, as it happened, came in useful during the event and were the last to be thrown into the skip.
The rest of the morning was spent climbing on the amazing smooth slabs that form the north wall of the valley. Xaqqa Valley is unique in being the largest slickenside of the Maltese islands, a smooth steep wall over 100m high in places, formed by the polishing action of the Magħlaq faultline. It is a Natura 2000 site and is legally protected for its unique geological and aesthetic features. As always in Malta, enforcement is the problem with not much being done to make sure that such a precious spot is protected from vandals and dumpers.
Mike Caffrey, Club Secretary, was responsible for organising this combined event, while Andrew Warrington was responsible for bringing the sponsors on board. Mike is also our trigger happy chappie, having taken the pictures you see here and on Facebook. The MRCC Committee would like to thank our sponsors for this event: Mrs. Mary Gaerty of Green Skip Services Ltd. for providing the skip on the day; the Malta Tourism Authority's Product Planning Division and Wasteserve for their support in this initiative. Mike commented: "We appreciate the dedication of all those MRCC members who gave up their time on Sunday to spend it collecting rubbish that should never have been dumped in the first place".
This is the fourth time that the MRCC has held a major cleanup of Xaqqa Valley. The first time we removed a car and a truck load of waste, the second time we removed two skips worth, the third time we removed the cabin of a trawler (?!) and a skip full so this time we got off lightly with just one skip load to remove…could it be things are improving? Shameful that such a beautiful valley is still a target for vandals.