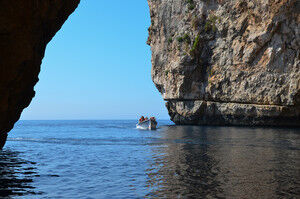 Malta is probably one of the climbing locations you do not want to miss. The island is right in the middle of the Mediterranean sea so enjoys sea views from all sides sun all year round.
The summer is hot but there are north facing crags at Victoria Lines and quite a few caves allowing you to climb in the cooler shade. In the winter the weather is mostly dry and sunny making it perfect for south facing crags to bask in the warm but pleasant winter sun.
With literally 1,000's of documented routes you are spoilt for choice. Most crags are single pitch but there are stunning places for multipitch. Most crags contain a wide selection of bolted routes and most crags have top access if you prefer to top rope.
You can choose inland valley crags that were glacier cut in the previous ice ages resulting in dramatic steep sides, quiet and off-the-beaten-track locations to climb.
Surrounded by sea there are many sea cliff locations for the exposed routes that offer spectacular views across the sea.
Bouldering, DWS, SLT are all popular here especially for tourists bringing limited gear.
We can help hook you up with a climbing guide if you need some help choosing a great day out or for one to one guiding and instruction.