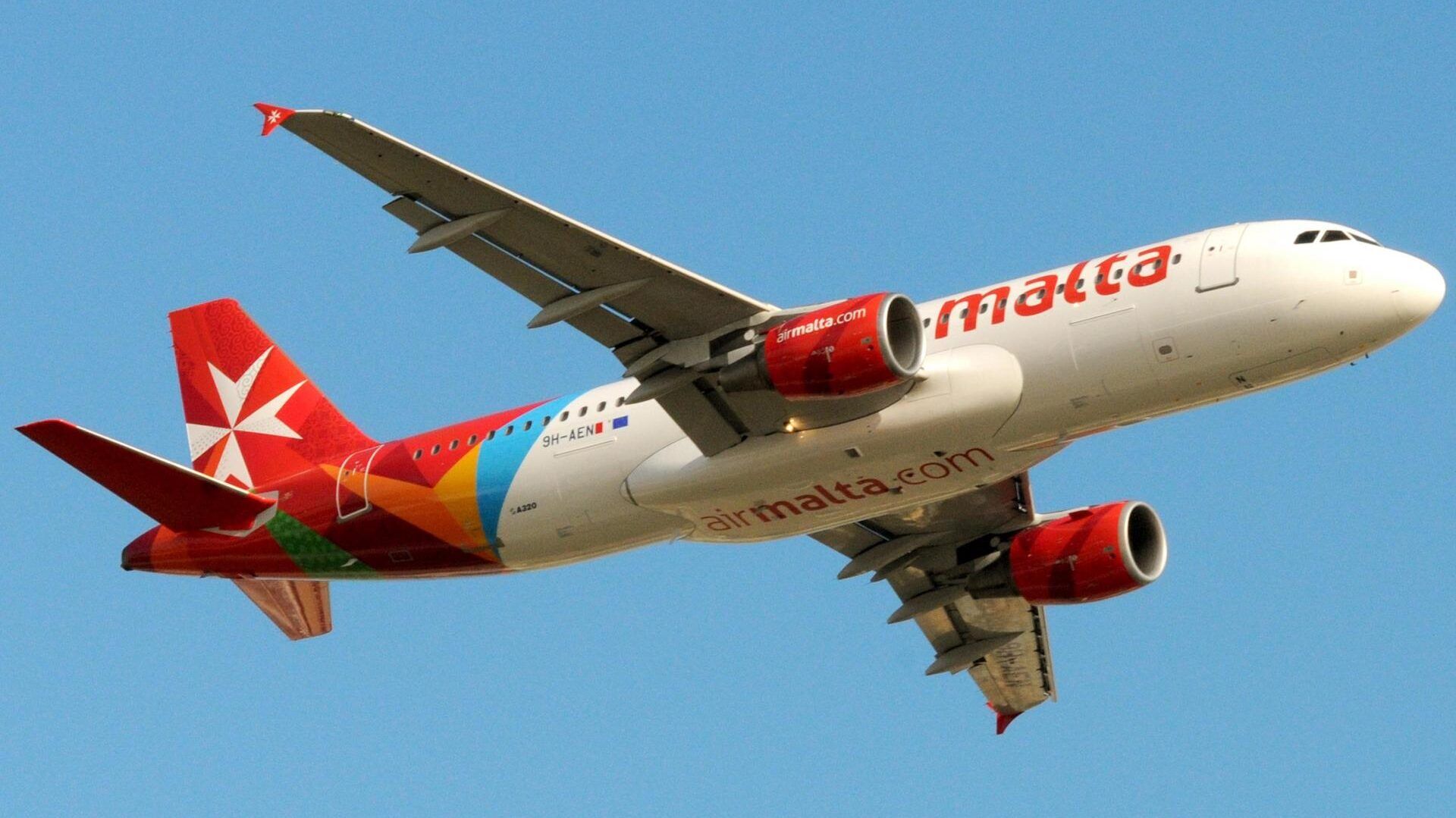 Malta is an island in the middle of the Mediterranean Sea, 90 km south of Sicily. It is most easily accessible by air and flights to the Island are serviced by the major scheduled and low-cost airlines. There is also a daily fast ferry trip to and from Sicily for both foot passengers and vehicles. Visit virtuferries.com for schedules and tickets.
By Air
Most European capital cities are serviced by the national airline Air Malta. Flights are more frequent and cover more destinations during the summer however the main routes are serviced daily and all year round.
Ryanair currently operates to Malta from several destinations in Europe. These routes change according to demand so best to check online. Easyjet also operates to Malta from other main airports in Europe.
Lufthansa has a very comprehensive service to all major cities and many minor ones too via its hubs in Frankfurt and Munich. Flights are not cheap but can get you here via a single airline rather than changing airlines as well as planes en route. Emirates also operates out of Malta to Cyprus, the Middle East, Asia and Africa. Many other scheduled and charter airlines also operate regular flights so check with your national operator and other major airlines for the best deals and schedules to suit your plans.
It is always worth checking out booking engines such as cheapflights.co.uk as booking.com and expedia.com for deals that offer flights and accommodation at good prices.

Malta has a great selection of places where to stay. You can choose anything from 5-star luxury to guest houses. There is also the option of going for budget self-catering accommodation, country houses and plush, ultra-modern apartments. It really depends on how much you wish to spend.
Malta is a small island, just 27 km long. You do not need to stay near to the crags to enjoy your climbing holiday because the island is so easy to get around, especially if you rent a car. Buses can also get you there but you should not be in a rush and enjoy a route finding challenge and have a desire to interact closely with the locals. Rental cars are cheap and the road signs are generally adequate, along with the maps and road numbering system – you will get there in the end!
There are tourist centres such as Sliema, St. Julian's, Bugibba and Qawra where hotels and tourist apartments are concentrated. All of these are close to beaches (mostly rocky ones) and have plenty of restaurants and cafes. St. Julian's has the crazy nightlife phenomenon that is Paceville where everything from dance clubs to strip clubs can be enjoyed – and the dancers' outfits sometimes make it hard to tell the difference! Bugibba and Qawra are adjacent to each other and have their own nightlife which is not as wild. Sliema is more sedate, has the best shopping and is closest to the capital Valletta.
Valletta is a wonderful place. Perhaps one of the smallest capital cities in the world it accommodates only 8,000 residents yet it is a vibrant, buzzing centre of commerce and government during the day. At night it transforms into a quite historical town with majestic walled ramparts that enclose it entirely. Its gardens overlook the largest natural harbour in the world and across the water are the three historical cities of Vittoriosa, Cospicua and Senglea. The Grand Harbour welcomes countless cruiseliners that berth at the Valletta Waterfront, a recently restored historical site that has been converted into a waterfront entertainment centre in a magnificent setting. Valletta is home to a few small and rather quaint hotels, although there are two luxurious five-star properties located just outside its walls. Across the water in Vittoriosa and sheltered by the magnificent Fort St. Angelo is the Cottonera Waterfront, where a number of restaurants and a casino share the waterline with the superyachts of the rich and famous.
Mdina, also known as the Silent City, was Malta's ancient capital until Valletta was built in the 16th Century. Although it only houses one hotel, it is rather special, with just 16 guest rooms and suites located within a beautiful house dating back to Norman times. This boutique hotel has kept its olde world feel while offering all modern facilities. Mdina has commanding views of the Island and is just a stone's throw away from Dingli cliffs – unclimbable except for the dry-tooling epics for the insane, but offering spectacular views just the same.

Gozo, Malta's sister island, is much smaller, more rural and greener than Malta. It is reached via a comfortable and enjoyable half-hour ferry ride from Cirkewwa in the North of Malta. You can also fly to Gozo on a seaplane. The ride is just 10 minutes long but the plane takes off from the Grand Harbour in Malta and lands just outside the quaint harbour of Mgarr in Gozo; the flight is a breathtaking experience, well worth the fare across. Do make sure that you book a rental car and have it waiting there for you however, or else you will be stuck.
Gozo has fantastic places to climb: sea cliffs that can scare and intimidate but are always spectacular; inland valleys with both bolted and trad routes to die for; sea level traversing and deep water soloing aplenty. These have also been visited by some really high profile climbers such as Stevie Haston and Simone Moro who have both put up some of the best and hardest routes. John Codling and John Moulding really contributed the best lines on the cliffs of Gozo while Andrew Warrington and friends developed the intimidating but rewarding trad cliffs of Ta' Cenc as adventure routes from heaven.
The best places to stay in Gozo are the many 4-5 star hotels (it is easier to find this level of hotel in Gozo than the more basic options) and of course the 'farmhouses', converted traditional country houses that can offer anything from herb gardens to glass-cased indoor/outdoor pools with spectacular views. Visit barongroupmalta.com for the best choice in farmhouses. The Grand Hotel is a homely, good value for money 4 star property overlooking Mgarr Harbour.
Comino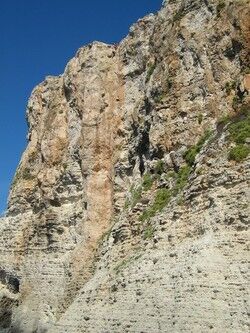 The smallest of Malta's three inhabited islands (just one resident there at present), Comino has the absolutely best beach on the islands, the Blue Lagoon. It's pristine blue waters are a magnet for boats and day trippers so try and visit outside the busy season to experience it at its best. Although there are just ten climbs on Comino the island is still worth a visit, even if just to engage in some pleasant sea level traversing and DWS around the Crystal Lagoon and beneath the tower The Lady in the Tower" E5 6a that featured in the 2005 movie 'Count of Monte Cristo' as the infamous prison.
The one hotel on Comino is not very classy, is rather expensive and not very good value for money. The Maltese tend to go to Comino for the day and either take their own food or buy a snack from the hot-dog vendor at the Blue Lagoon who does a really tasty hot-dog for cheap. There is a campsite at Santa Marija Bay but the facilities are nothing to write home about. However it is right on the beach, free of charge. Basically you can just pitch your tent wherever you wish. Freedom reigns.
Comino has numerous small ferryboat services running during the summer season, all roughly equal in price and quality of service. If you are stuck and cannot get a ferry off-season, call Midas on 9947 8149 and he will come and do your bidding.
For the best deals on hotels and other accommodation, visit choosemalta.com