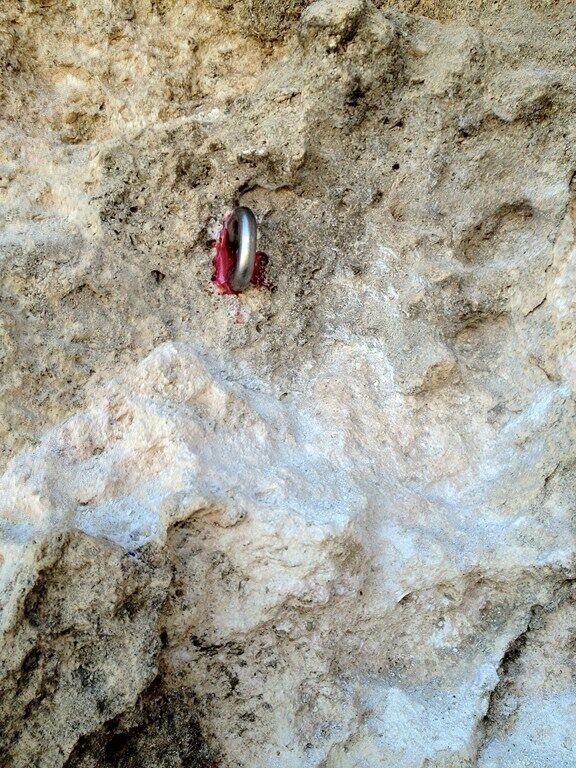 After two visits to Wall of Wonders in full bolting kit, with one visit ending in a jumar ascent out of the wall in pitch darkness, I am happy to say that Freebird 6b is back in business. Most of the bolts between the first stance and the end of pitch two have been backed up with Fixe 316 marine steel resin bolts.
IMPORTANT: the new bolts were glued in today and have not been tested so whoever does the first ascent must clip into the old bolts as well and hand test the new bolts to ensure the resin has set correctly. Once this is done, please let us know or post it on Facebook so that everyone can have their minds at rest. We will then remove the old bolts so that only the new ones will be used. Any problems please contact us.
The work done so far has been to make stance 1 safe, pitch 2 safe and to install a second stance in an appropriate place and remove the previous hanging stance 2. This has all been completed.
The first pitch, the traverse from the wave-cut platform of Red Wall, has not been worked on yet. After I called the meeting of all the people who are active in bolting locally, the ensuing correspondence has been very proactive and cooperative. In fact, Simon from the MCC has found a new type of bolt which is reported to resist corrosion better than even 316 marine grade steel so we are going to rebolt the first pitch with these new bolts. We are waiting for samples to arrive and will get to work on the traverse pitch using these. This is where the route's anchors are most affected by corrosion because they are in the splash zone in a very humid environment.
The meeting of bolters will take place on 30th August at my office and the intention is to come up with guidelines for all future bolting activity in terms of grade of material to be used in different locations; installation protocol; replacement of old insitu gear (bolts & slings); awareness of the proper use of lower-offs and anchors. The results will be published on the websites of all three Clubs.
Andrew Warrington, Project Manager – MTA-MRCC Bolting Project.; Club President.