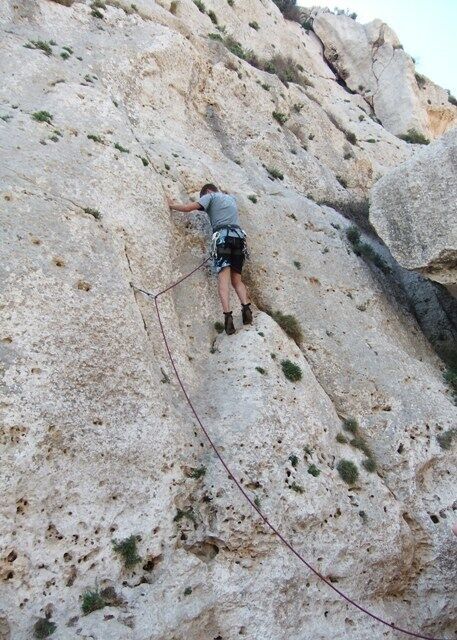 As the weather is getting warmer each and every day, only a few climbing enthusiasts still prefer the crags to the seaside. The MRCC therefore had Wied Babu to themselves on Sunday, and chose the East side to hide from the sun's intensity.
MRCC members this week were joined by 4 very determined and fearless English climbers; Olly, Richard, Chantal and Matt. The group set up a number of routes on both sides of the leaning block in Babu East. Edward Sciberras was the first to lead the now fully bolted route Flake Climb/Mania VS 4c, with its challenging 5a/b finish. This route was top roped by Marina Sciberras and Miriam Gauci, and also led by Cheryl Aquilina. On the other hand, Kurt Caligari led Foreign Interference 5c, which was later red pointed by Miriam Gauci and Marlon Vassallo. However, the challenge of the day for Kurt and James Herrera was the 6b+ route known as The Flying Arete/Viva il Capo, with its very few holds and exposed climbing on the bulging boulder.
The English climbers led and climbed numerous routes on both sides of the leaning Block, including Daylight Robbery 5a, Acida 5a, and Exposure 6a+ to name just a few. They certainly did not waste a minute of their limited time in Malta's most popular climbing playground!