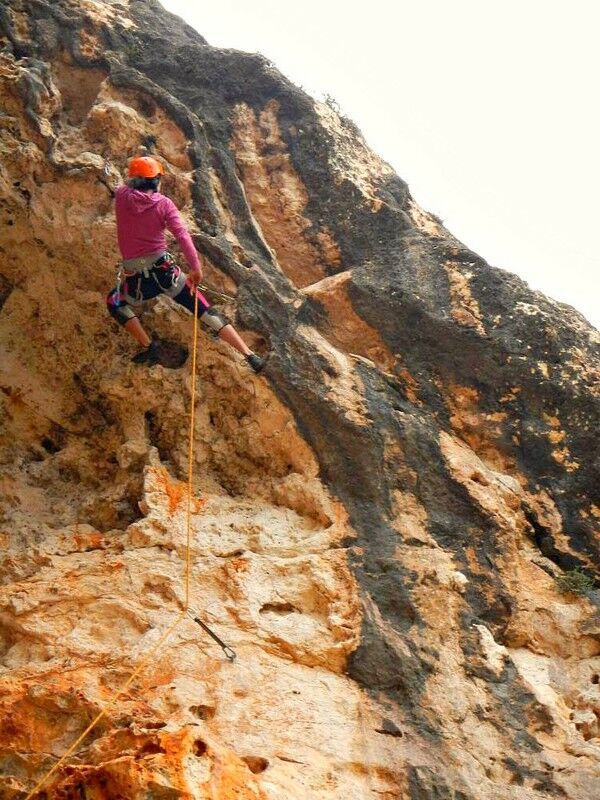 Another sport route for everyone to enjoy in Terry's Cave at Għar Lapsi! I have today finally completed retro-bolting the new trad route I had led last year, which I called Le Droga Le Ħaxixa E2 5c. This route is in Terry's Cave and I think this is a worthy addition to the excellent array of sport routes recently equipped by the MTA-MRCC Bolting Team at Għar Lapsi. As a sport route it should go at around 6b.
The process of retro-bolting took four visits to complete. Sunday before last I marked the route while we were climbing with a bunch of friends at Terry's Cave. Last Friday I drilled three of the bolts before having to leave for a children's party. Last Sunday I stayed on after the morning's climbing to complete the drilling work but was then benighted before I could resin in the bolts. Finally today I managed to resin in all 5 bolts and get down before it got dark.
Another important piece of work I completed while installing these bolts was to install a new lower-off on First on the Bus – Granny's Seat 6a+. This is the first route right of Terry's Cave Direct. It had a problem – the lower-off which it shared with First on the Bus (the next route right again) was too far right of the last bolt, resulting in chronic coils building up in the rope as the leader was lowered off the route. This problem is now gone and the route has an additional 2m of climbing, with one new bolt above the previous last bolt. I think the route will be much more pleasant to lead now that it has been sorted.
Please remember all these bolts and the lower-off were only installed today and have not been tested. Whoever climbs these two routes please check each bolt before you clip it and back up the lower-off before putting your life on the line for the first time. The lower-off has red tape to indicate this. Once tested please remove the tape so everyone has their minds at rest that all is well.
Hope you all enjoy Le Droga Le Ħaxixa 6b (the climb, that is), it should be much more accessible now. It is important to stress that the graffiti on the walls of the cave has been there for years and was the inspiration for the route name – I did NOT paint the name of the route in big capital letters, just in case anyone had any doubt about this! You never know what seditious rumours might be spread about these days 🙂
Andrew Warrington