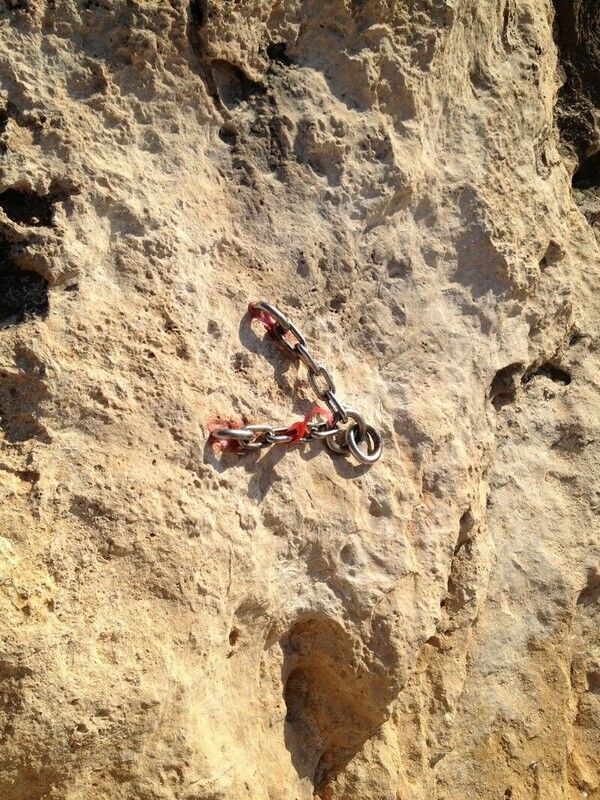 I have spent another beautiful sunny day improving installations at two excellent crags in the Fomm ir-Riħ area: Glass Wall and Spezz Wall.
As was notified earlier this year, some vandal damaged the abseil point at the top of Spezz Corner E2 5b on Spezz Wall. I have now replaced this with a proper 2-chain ring abseil point made of A-316 marine steel. It is slightly below the original installation but still within safe reach of the top so it is easy to abseil down the route (see picture). Caution – this is a 40m abseil to the start! There are still two more installations needed: a mid-height second abseil point to allow abseiling with a 60m rope doubled over, and a belay point near the sea.
Spezz Corner is a 40m trad route and will stay trad as it is very easy and safe to protect using trad gear, a pleasant 3-star route well within its grade.
On Glass Wall, I have installed some much needed belay and abseil points:
On Rasta S 4b I have replaced the two old slings at the belay point down by the sea with two sea water resin bolts. I have also installed a mid-height second abseil point to allow access to the new belay stance (which is 35m down from the top) using a 60m rope doubled over.
The Glass Wall E2 5b now has a belay stance 8m above the water to allow a direct ascent instead of trending into the route from the old rope stance at the foot of Rasta.
My new route Oksana Ermakova E1 5b which takes a direct line up the far right hand side of Glass Wall now has a belay stance at the bottom and a belay anchor at the top. The route is 30m high so you can abseil directly from the belay anchor at the top but be extremely cautious – the route is EXACTLY 30m so a 60m rope doubled over will get there with only the stretch in the rope as leeway. Tie a knot at the end of your rope before descending!
Glass Wall is a trad climbing crag so all the routes on it will be left as trad. Spezz Wall is a mixed climbing area so there are some routes which are bolted and others which will remain trad. As I said, I will leave Spezz Corner as a trad route because it is great fun that way.