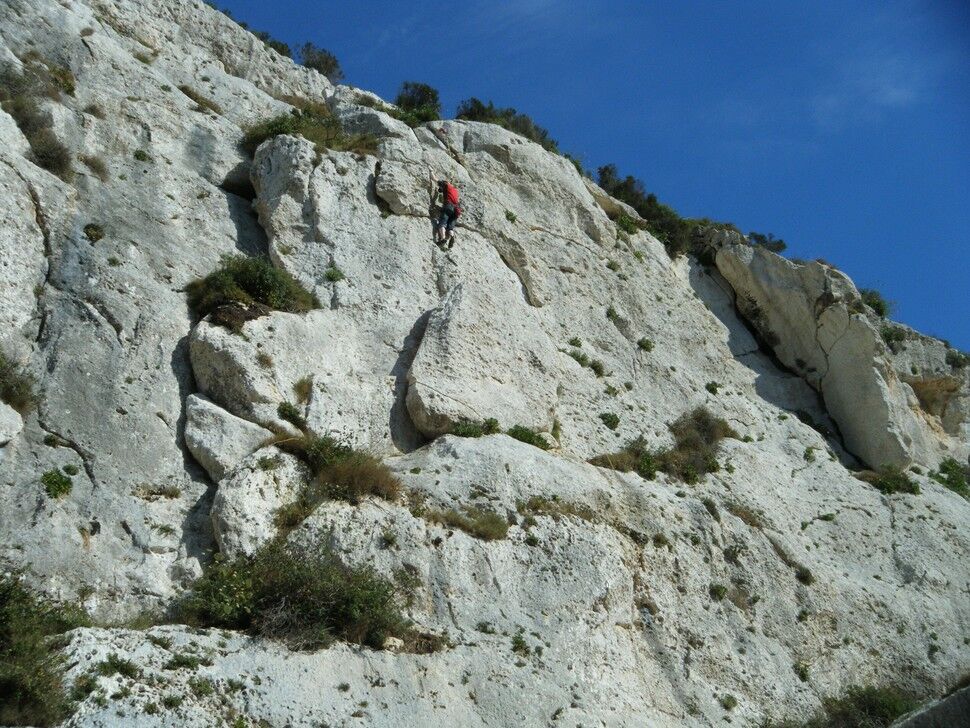 Despite the heat, the MRCC Bolting Team spent a morning improving the infrastructure of Babu East side crags with the installation of Lower-offs (LOs) and a newly bolted line close to the Leaning Block. Andrew Warrington and Mike Caffrey got an early start and headed into the valley before breakfast, spending until around midday (when the sun reaches the crags) working away. The achievements of the day were the following:
Screw-gate LOs were installed on:
Florance 5a, Acida 5a and Flake Climb/Mania VS 4c. This means that there is no longer the need to put in slings for top-roping these popular climbs, which are ideal as beginners' first climbs and as first leads for developing climbers. Just clip the LO, close the screw-gate (important!) and your belayer can lower you down. It also removes the need to untie from the rope and thread it through the old LO when finally descending from the route, which means added safety for climbers.
A 2-bolt LO has also been installed in the Leaning Block for Blockhead, the incredible E3 6b extended boulder problem created by John Codling. This is to be used with two 120cm slings threaded through the bolts and doubled over. This will extend the screw-gate over the lip to avoid rope drag and damage. The LO is not suitable for abseiling off the route.
These LOs have now been tested.
Flake Climb/Mania previously VS 4c is now a fully bolted sport route including a 5a/b finish! This was the line that had just one bolt near the start, deceptive in that it led climbers to believe it was another sport route – many had taken the bait, to their regret. It has now had 7 bolts added to it, to make it another worthy sport climb in the Babu East arsenal. At the top the overhang can be avoided by following the original Flake Climb leftwards (4c, follow pitons) to the LO of Acida or taken direct to another screw-gate LO. Brilliant climbing!
Take care and have fun trying out these new additions!
As a standard precaution always visually inspect any in situ gear before use for willful damage or environmental erosion. You use in situ gear on your own responsibility and at your own risk.