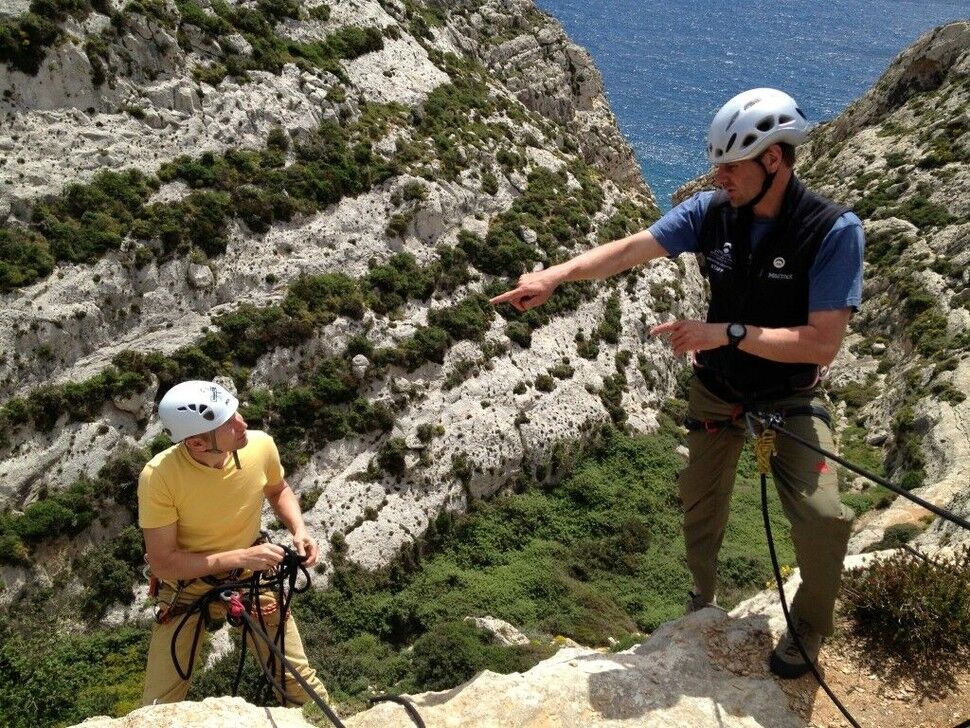 The MRCC has teamed up with MC Adventure to organise a week of training with UK Mountain Instructor Alistair and Dave, to train a group of Club members to act as guides. The lack of any professional climbing-related training among Maltese climbers has become a worry. Most of us learnt to climb through a combination of gleaning as much as we can from more experienced climbers, and trial and error – not great for a sport where any mistake is likely to have serious consequences. Yet for thirty years, this has been the only way of learning to climb on Malta. Only veteran Richie Abela had made the costly journeys to the UK to undertake the Single Pitch Award training and accreditation under the auspices of the Mountain Leader Training Association UK.
With the growing number of people taking up climbing, it is becoming increasingly important for there to be a body of climbers who are not only experienced and competent, but who also know the current best practice in our sport. Mentoring is fine as a means to teaching climbing, but the mentors must also be up to date with the latest techniques and knowhow related to safety and environmental sensitivity in the climbing world.
In order to ensure that the MRCC's club activities are always conducted at the highest level of safety possible, and to pass on best practice to all those who learn to climb with us, we teamed up with adventure excursion organisers MC Adventure as part-sponsors and arranged for Alistair, a British Mountain Instructor and Winter Mountain Leader of 16 years' experience, to come to Malta for a week of instruction to a group of 7 MRCC members.
Alistair is an exceptional instructor. His style and humour make him very pleasant to work with and he believes in students getting their hands dirty. His brief was initially to prepare us for the British Single Pitch Award syllabus but we expanded this to include rescue instruction for those occasions that one experiences from time to time when an accident necessitates escape from the cliff as quickly as possible.
The seven members of the MRCC team were: Roland Sultana, Kurt Caligari, Matthew Manderson, Daniel Mifsud, Keith Huber, James Herrera and Andrew Warrington. Each individual was trained and assessed using their current level of experience as a starting point. Alistair then issues certificates for each according to the level of competence they had demonstrated and achieved. Roland, Kurt and Andrew were qualified for both trad and sport single pitch leadership while Andrew was qualified also for multi-pitch sport and trad leadership.
This course was the first step in a process of development of a local based system of qualification that we plan to develop in conjunction with Alistair and Dave. These two lads have 'adopted' Malta and the MRCC and want to be part of this process, which is so important for the future development of Malta's climbing scene in a safe, supervised and competent manner, recognised by the authorities and adopting the best practice applicable to our climbing environment.