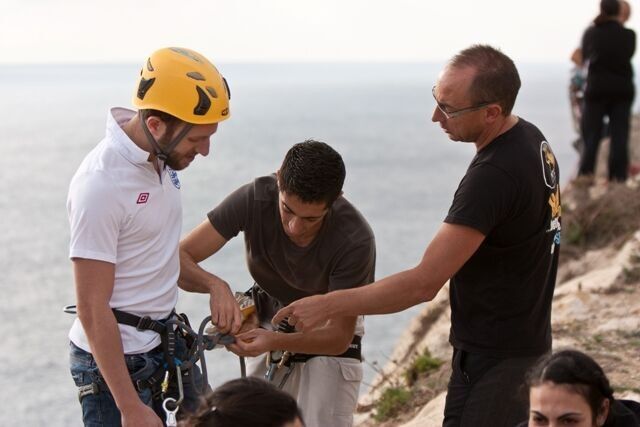 As the days are getting shorter, the summer evening sessions for beginners which had been gaining popularity have come to an end, and the MRCC had to find an alternative time for people who are new to the sport to test their rock climbing skills…
Last Saturday's session proved to be a well-organized event during which a few MRCC members managed to accommodate over 30 people who were given the opportunity to climb the attractive slabs of Xaqqa Valley. James Herrera, Duncan Steel, Miriam Gauci and Marina Sciberras, under the guidance of the club's President, Andrew Warrington, set up 4 top ropes on routes of varying grades. Complete and relative beginners queued on each of these routes, encouraging each other as they waited for their turn. They were also taught the basic skills of putting on a harness properly, tying the climbing rope onto themselves, and abseiling down to the foot of the climb.
Despite the significant number of participants, everyone had the chance to climb one or more routes. Those who overcame their fear of heights were also given the possibility to have a go at harder routes, so that some people remained in the valley until twilight. This increase in the number of people attending these sessions proves that if given the opportunity, a lot of locals are interested in the sport of rock climbing, and some will hopefully take this further to become regular climbers.