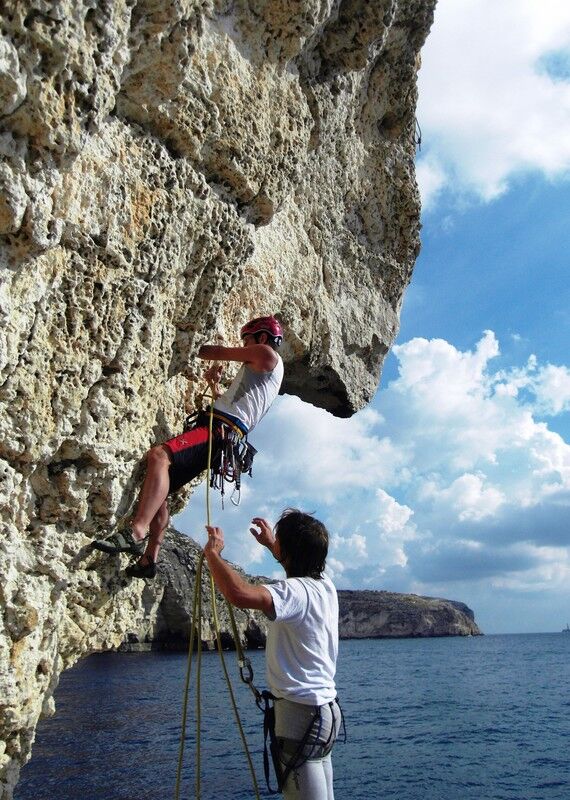 Earthquake Corner has finally been cleaned of all those corroded alloy bolts that were a liability and an eyesore on this beautiful climb. The climb has been restored to its original trad configuration and shall be left this way. The ring at half height has been left in place because it is necessary for abseiling down to the wave-cut platform below – a 60m rope will not reach the bottom. It is necessary to abseil in two sections: from the ram's-horn at the top to the ring, then from the ring to the bottom.
Rhumb Line is a new bolt route established by Andrew Warrington and Andy Hooper over the holidays. It was marked, drilled and bolted on the 29th December, then led by Andy Hooper on 2nd Jan 2011 – a great way to finish one year and start the next! The route takes the pocketed wall just left of Earthquake Corner, rises through the vegetated overhang then takes the grey slabs above, finishing at a snap-link LO (caution: this is 35m off the deck so you need a 70m rope to top-rope from below). The route has 11 bolts and is graded 5+, being of the same difficulty as the old bolt line of Earthquake Corner.
Miss Pat and the SATU Warriors. The same bolting activity resulted in another 3-star line on Red Wall! This route starts as for Blue Moon but take the overhang direct in a power struggle over the orange bulge. From there it provides beautiful steep wall climbing on sharp but solid pin-cushions to a snap-link LO at 30m height. The line was also bolted on the 29th and led by Andrew Warrington on 2nd Jan. The route comes in at 6b+, has 12 bolts and is a must-do lead.
General Cleanup and Re-bolting of the Crags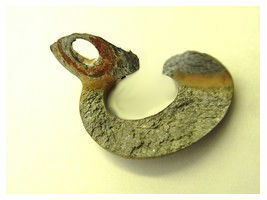 The MRCC is currently involved in removing and sometimes replacing old corroded in situ bolts and slings as part of the MTA-MRCC Bolting Project. This is necessary for a number of reasons:
Safety – old corroded bolts such as the one pictured below are obviously unusable but you don't want to find that out when you have climbed up to it thinking it is a safe clip. Some of these can be deceptive, seemingly intact until you get up close and personal with them. BE WARNED! even some hangers that might look usable and complete may not take a fall. We have removed old bolts that had little or no metal left at all inside the rock behind the hanger!
Aesthetics – many of the alloy hangers are corroded and lhave eft unsightly stumps in the rock that are an eyesore. They often leach rust into the rock that runs down the face and stains it permanently. Many old slings are also unsightly and provide little protection to the leader because of the years they have been left there rotting in the sun.
Infrastructure – the growth of Malta's climbing community and the influx of foreign climbers resulting from the publication of the guidebook are placing demands on the available infrastructure for climbers. Wied Babu's east side is populated with climbers every day and it cannot take too many more as it is. There is a need to provide alternative venues for climbers to visit and enjoy their sport. Since both local and foreign climbers are overwhelmingly making use of bolt climbs, there is a need to ensure that any bolts in place are sound and well placed, and provide a safe playground in which we can all enjoy our favourite sport.
The MTA-MRCC Bolting Project is slowly but surely replacing the many alloy hangers, rusty expansion bolts and in situ slings with new 316 stainless steel bolts and LOs wherever appropriate. Please make sure you test all new placements before use. Also, if anyone installs new bolt lines or replaces scary looking gear then lets share the info so that all who visit the crags will know about it and can enjoy the fruits of your labour.