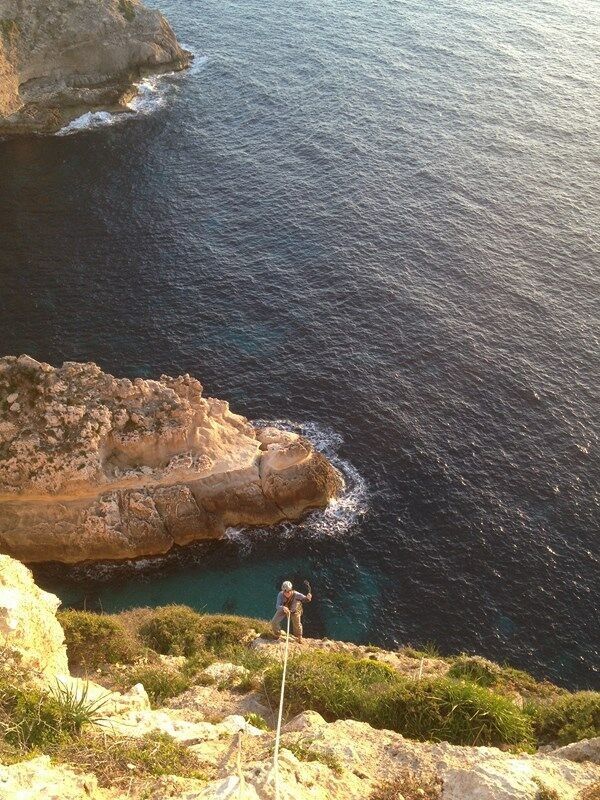 On a warm and sunny afternoon in January, Michael Muller and I headed out to the sea slabs of Xaqqa. The previous weekend I had spent Sunday afternoon installing anchors for a new multi-pitch line I had spotted some time ago on this face. This route starts 90m above the sea and the descent starts from the cliff opposite the end of Xaqqa island, and goes straight down.
The route is done in 4 pitches, even though the last (highest) pitch is just a scramble from a wide ledge to finish the line. The meat of the climb consists of the first 3 pitches, pitch 1 of 20m and the next two of 25m each. The third pitch is the most difficult, going at British 5a.
I have installed anchors at each stance from the route's start up to the wide ledge. Getting to the wide ledge is just a scramble from the top or a short abseil from two good threads. Route description goes as follows:
Abseil 85m straight down to the lowest anchor, two bolts about 5m above the sea. The first pitch is about 4c with reasonably good gear (small threads and rocks). The second pitch is also around 4c but with less gear on excellent rock forming an exposed slab, ending at a large, vegetated ledge. From the anchor trend slightly left up a bulge past good gear, then back right to follow the easier angled slab to the last anchor.
On Michael's suggestion, we went to climb this route in the early evening. Since Michael got here we have climbed hard sport by head torch, finished bolting a new line by head torch and now led trad onsight by head torch! It's become a great way to extend the time available for climbing outdoors in winter…
I called the route Salamanca to commemorate my daughter's three month stay in that beautiful city…and the great holiday she, Debbie and I shared while she was there.
Andrew Warrington
MRCC President