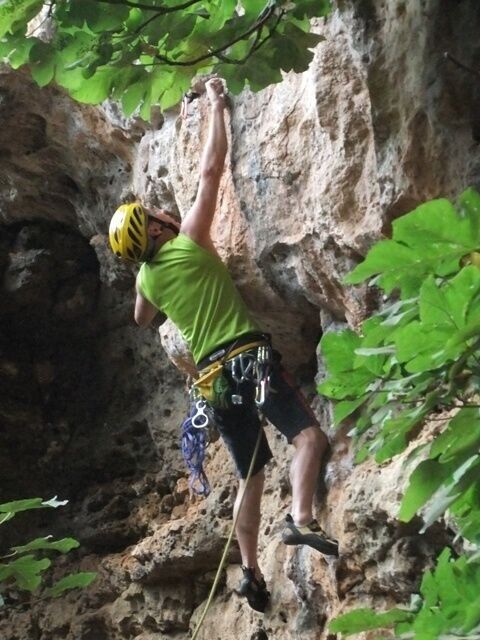 With the onset of bad weather last Sunday, it was difficult to imagine us enjoying the great outdoors. Yet, on the Northern tip of our island there a new climbing location where the rock stays dry – an underground cave which is large enough to protect the recently bolted routes from the wind and rain.
The MRCC headed to this place late in the morning, and chose one of the easier routes to start with. There is nothing less challenging than 6b in this climbing location, due to the fact that all routes are overhanging as they lead up to the roof of the cave. Yet the holds are good and reliable, and the bolts are perfectly placed to help the leader progress up the toughest parts.
Andrew Warrington led the first route, seconded by Roland Sultana. The pair then made an assault on another route, the magnificent power test-piece put up by Jeff Camilleri and Rael Saez, appropriately named Crazy Monkey. It clocks in at 7a+, has perfectly placed resin bolts supplied by the MTA-MRCC Bolting Project, and consumes muscle power like a Roman Galley on speed! While Miriam and Marina attempted to top rope the first climb, with some difficulty, Andrew and Roland fought their way up to bolt 7 on Crazy Monkey. Both routes required a lot of exertion but the satisfaction we felt after every few centimetres made it all worthwhile. We will be back.