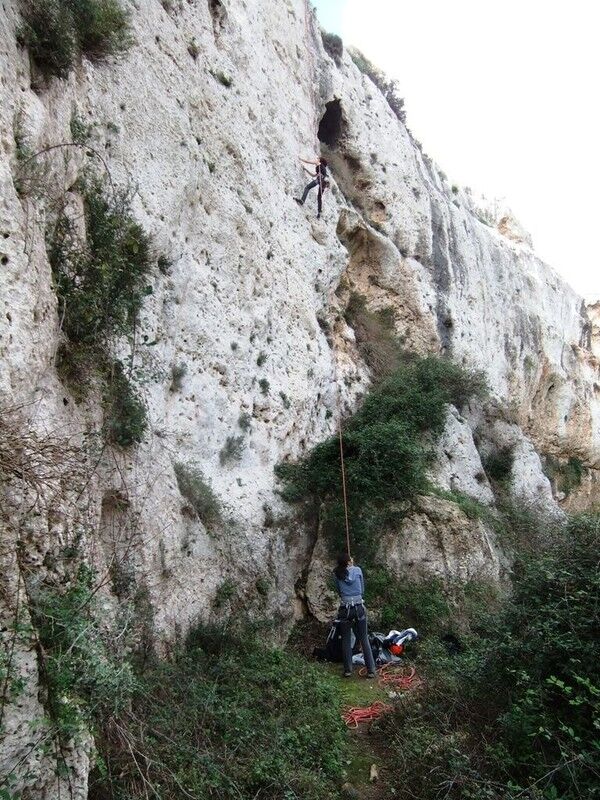 The MRCC planned another trip to Gozo last Thursday, and headed to Mġarr ix-Xini to tackle the tougher Champage Wall section. A lot of the routes in this area are fully bolted, and range from 5 c to 7a+.
Duncan, Marina and Miriam started out on one of the 'easier' routes in the area, Rubber Duck E3 5c/6a, and struggled up it by means of its tiny finger pockets. Meanwhile Andrew Warrington led a 5c route right opposite for beginner climbers Christina, Lena and Joan. Kurt and Roland also paired up to lead Dirty Girls 5c, which was then top roped by Marina, Miriam and Joan. Other routes attempted include The March of Folly E2 5b, and the more demanding Moby Dick 6b+.
In the afternoon, Andrew, Kurt, Roland and Duncan got down to some more bolting work, and installed an intermediate bolt and lower-off on Dirty Girls, as well as an extra first bolt on 3 other routes to ease the leading. The group drove out of the valley as it got dark to catch the ferry back – all feeling that they had made excellent use of the much awaited public holiday.