The Cinemas approached the MRCC to come up with an appropriate stunt which would be performed while the guests arrived for the premier night showing of EVEREST.
The Eden building lent itself beautifully to our ideas. We built a climbing wall on the actual facade of the cinema, starting at the entrance and scaling the 3/4 storey building to the roof. There a Tyrolean traverse was set up to cross the street to the Cinema 16 side of the complex. From there an abseil brought the climbers back down to the street.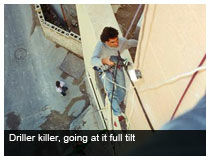 Building the wall took the MRCC and a visiting Swiss climber Monica the best part of a week of slave labour. Jeff, Richie, Monica and Andrew actually drilled the facade of the cinemas, fixed in artificial holds and made some interesting twists and turns as the building layout permitted. Ropes across the street for the Tyrolean were set up by Charlie Ellul and Mario Riviera, and finally the abseil was put in place. Testing was done to ensure that all was safe and in order for the premier night.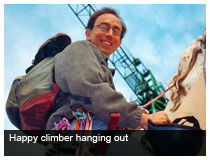 You can imagine the surprise of the glitterati and dignitaries invited to the auspicious event as they emerged from their limos and found a bunch of appropriately attired climbing dudes belaying each other up the face, then across the street and finally down the abseil. The evening was a great success and the club got to keep the holds after removing them from the facade and plastering the holes left behind. Those holds have been put to good use in a couple of climbing walls around the islands since then…and a number of new interns to climbing joined up after being captivated by such a cheeky climbing event in the midst of the urban jungle.