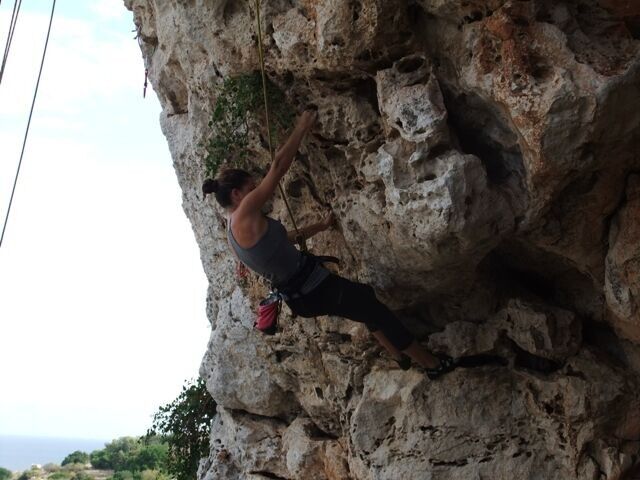 MRCC climbers were up for a challenge last Sunday, and the location chosen for this was Crucifix Cave on the Victoria lines. This was the first time some of the gang had visited and they certainly found several opportunities to test their beef and balls! Situated in a cul-de-sac on the side of the Victoria lines near t'Alla w Ommhu, this area offers plenty of shade and tranquility in the morning, as well as a stunning view of the countryside and Bahar ic-Caghaq spreading out below it.
Andrew Warrington started by leading Honeycomb Wall E1 5b, which was then top roped by Miriam Gauci, Cheryl Aquilina and Claudine Gatt. Just left of this, Roland Sultana warmed up on Honey I'm Home! E2 5c, and then successfully led The Boxer E5 6a (7a). This impressive route is a pump-fest with good jugs but radical, near-horizontal beefing up the roof needed to make the crucial bolt clip. It was also tackled clean by Andrew Warrington, Kurt Caligari got to the top with a couple of rests and James Herrera made a good showing, eventually making it to the top – their efforts and progress were quite a sight to see!
Andrew and Duncan also cleared up some vegetation to the right of the cave and discovered a new route, which Andrew promptly led. It is a trad route, around HS 4b and has been baptised The Wanderer. Andrew also spotted another line on the left side of the cave, then stayed behind to start the process of bolting this overhanging line. He also installed two much needed LOs, one on his new line and the other on Honeycomb Wall.
Given the increasing number of routes in this cave and their varying level of difficulty from easy to mega-hard, the Club will certainly return to this cave sometime soon!