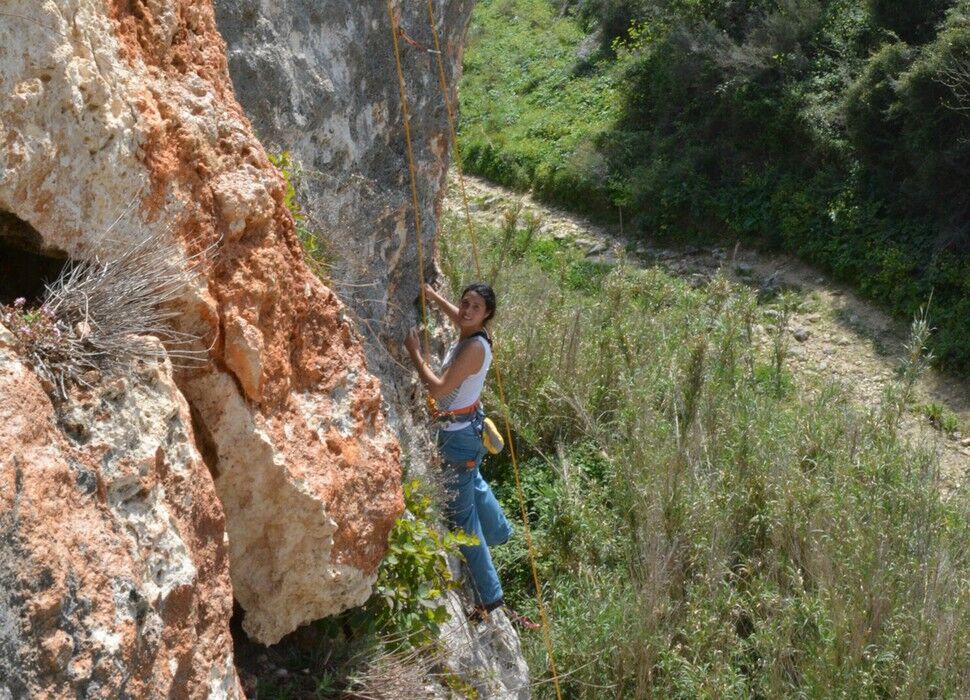 Yesterday, profiting from the long-awaited day of sunshine, the MRCC organized another session of rock climbing for beginners or quasi-beginners. The event was organized at Wied Qirda, on and around the Sphinx Buttress. The show-up was very good, not only in numbers (23 people found the place, albeit after some wandering for some of them) but most of all there was a fantastic team spirit and enthusiasm, which contributed to the great fun! The organizers had set up ropes on 5 different routes, ranging from 5a to 6a+ in grade, and from slab to slight overhang, to even a roof (Sphinx RH) that a few participants bravely attempted… and some got it to the resonating applause of the audience! As usual, a Babel of languages were spoken at the base of the crag: English, German, French (well… Belgian French J), Italian, and even Malti (did you forget we're in Malta?).
There were absolute beginners who enjoyed their first experience with the rock, and from the recount of our treasurer Sandro, 7 of them liked it so much that they joined the Club, so a big warm welcome to all of them! Other quasi-beginners, though only at their third or fourth climb, showed amazing stamina and braved some of the higher difficulties.
A big thanks to all those who helped organize and man the event: Carolina, Keith, Mark, Michael, Nicola, Roland, Sandro, and last but not least Marine who can now pride herself of the "expert qualification" (pity she's going back to Belgium, or is she not?).
We all missed our President Andrew, who was trekking his soles off somewhere in Patagonia.
Thank you all, and see you soon in another MRCC event!
P.S. About the "ticking" in the title: since we spotted a few of the nasty little critters (ticks) around the base of the crag, just check yourselves in the mirror and if you find one of those little vampires clinging on your skin, don't just pull it away, but seek expert advice, or even doctor advice if you should develop a red rash around the bite or somewhere else.
Photographs kindly provided by our official photographer, Michael.
Text: Nicola Gatti