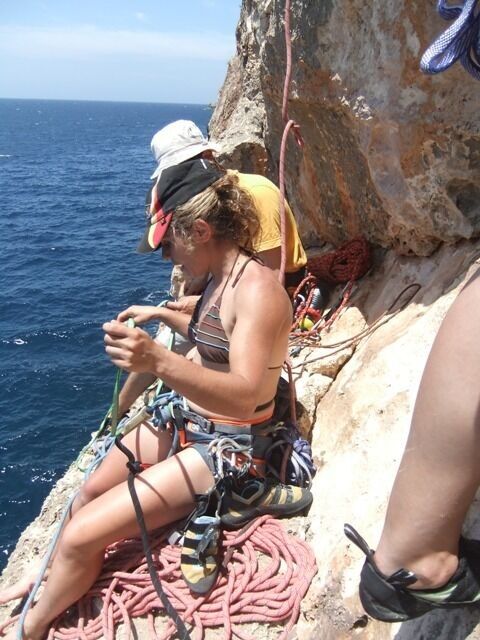 A few MRCC members chose to attempt the well-known but less frequented Continuation Wall E1 5b last Sunday, which is one of the few multi-pitch routes on the island. They were not put off by the daunting approach to this mega-classic route – a long abseil down two ropes tied together! The group of 8 abseiled 92 m down the cliffs to reach a small, exposed ledge very close to sea level, and divided themselves into pairs – a leader and a second – to make their way up this magnificent three pitch route (originally led as 5 pitches, it can also be led in two long pitches, as indicated in the guidebook).
Andrew Warrington was the first to lead up the slabs, followed by Terezia Uherekova. Kurt Caligari went next, and added some extra gear for safety, seconded by Cheryl Aquilina. Claudine Gatt and Miriam Gauci were the next to go, followed by Roland Sultana and Edward Sciberras. All climbers stopped to sign and write an entry in the guestbook that the MRCC had installed in 2006 in a small box at the start of the last pitch, proud of themselves for having joined the exclusive group of climbers that have braved this classic ascent.
A new plaque, identical to the original, was also hung next to this box. This substitutes the original plaque that John Graham had installed in the same spot on Christmas Eve 1967 to commemorate the first lead in 1953 and the second ascent fourteen years later! Thanks go to Andrew Warrington, Andy Hooper and Roland Sultana for restoring this icon of Maltese climbing history to its rightful position on the cliff.
All climbers managed to ascend this 5b route without encountering any major difficulties, and by late afternoon, everyone had reached the top, proud of the day's achievement. A long but very satisfying day out.