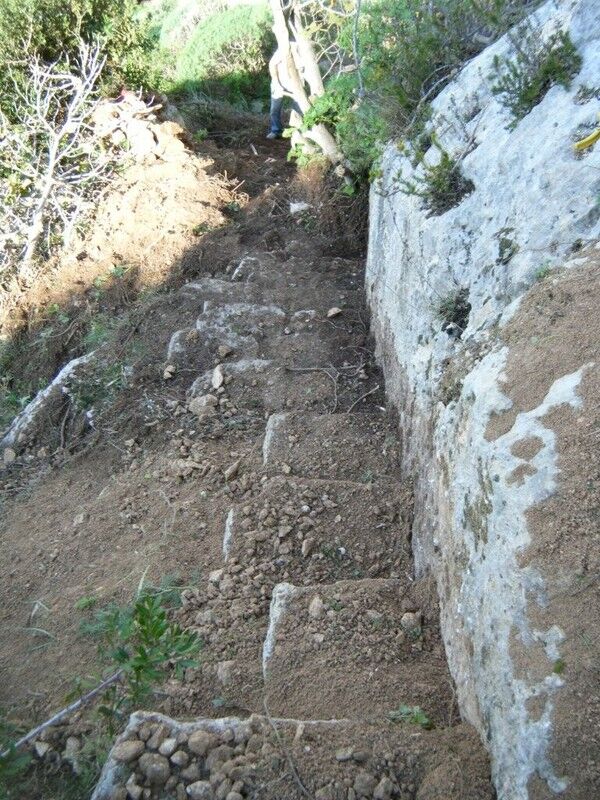 The MRCC has just completed an important access initiative in Wied il-Għasel. A staircase which forms part of the Victoria Lines defensive wall where it used to cross this beautiful valley (it has mostly been washed away in the valley floor or blasted away by illegal activity in the quarry above), was exposed and cleared of probably 100 years of accumulated soil, vegetation and most recently screed dumped from the quarry above.
A gang of around 15 or our members turned up to give a hand with the hard labour that was needed to transform the area. This was primarily Roland's event, as the Environment and Access Officer of the MRCC, and congratulations to him for an event well organised and managed. He obtained the tools, kindly supplied by the Parks Department of the Ministry for Resources and Rural Affairs (MRRA). He identified the exact zones which needed to be tackled, including a few areas where the stairs had been completely buried under soil and masses of vegetation. Being experienced in construction, his knowledge was invaluable in ensuring that the restoration of the stairs was done carefully and sensibly.
The gang divided into small teams who each tackled a part of the staircase. The original plan was to only do the small part that provides access from the bottom of Honey Buttress to the LOs above but then Roland suggested tackling the entire staircase from valley floor to the rim of the quarry. In the six hours we spent working away, we were able to tackle the entire run of stairs. There is still a little finishing work to be done but access has now been improved dramatically and is fully functional.
The Victoria Lines defensive wall was built by the British colonial administration between 1870 and 1899 as a first line of defense for the island. It crosses several valleys and descends steeply down the sides of these valleys, posing a challenge to the builders in making it possible for soldiers defending the lines to travel back and forth rapidly along their length.
To tackle this problem, the defensive wall was equipped with wide staircases whenever it fell steeply into valleys. These are either masonry staircases or hewn directly out of the rock of the valley sides, and they took great skill and effort to complete. The Victoria Lines is built along the Victoria Lines fault, which is lower coralline limestone in its entirety, the hardest rock of the Maltese Islands (one of the reasons why we climb here so much). Some of the Lines have been restored over the last few decades by the Environmental authorities but there is still much that can be done to restore this feat of engineering to its original state and provide a wonderful hiking trail from coast to coast – the wall stretches from Baħar iċ-Ċagħaq in the north to Fomm ir-Riħ in the south.