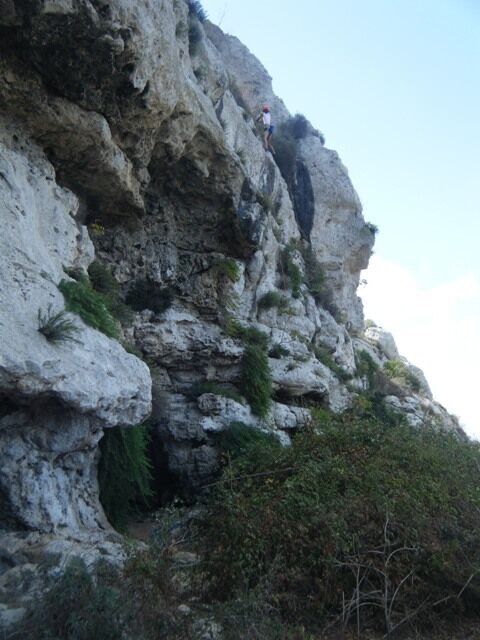 After last week's visit to Crucifix Cave the Club was bound to return for a much needed clean-up and to complete a brand new sport route, as well as cranking on the existing lines.
Andrew Warrington opened the innings with his lead of the excellent trad route Encore E3 6a. After that he drilled the last two bolts needed to complete his new line on Honeycomb Buttress, just right of the route by the same name.
Duncan, Marina, Roland, James and Miriam also cranked away at the several routes on offer, including Encore E3 6a, Honeycomb Wall E1 5b and two potential new routes to the right of Encore.
The morning was rounded off by Andrew Warrington leading his new route, which he named Life of William in honour of his dad, who recently passed on. The route is a worthy addition to the stable of hard climbs in the cave, graded 6b (subject to revision by consensus). It has 7 bolts ending at a LO.
After the morning's fun, Andrew and Duncan stayed behind to install an abseil point above Honey I'm Home and a LO on Encore. This means that the Honeycomb Wall buttress now has an abseil point above Honey I'm Home, a screwgate LO on Honeycomb Wall and screwgate LO on Life of William.
All in all, it was a morning of cleaning rubbish, gardening brambles, leading new and old lines and installing safety equipment for everyone's benefit – progress on 4 fronts which has rendered this location safer and more attractive to the climbing community.